Have you ever noticed that cartoons for little girls are all very fantasy compared to the practicality of those aimed at boys.
I'd like to suggest this be the reason that women's fashion on the whole is much more inventive and impractical than our male couterparts'.
An example- Bob the builder, Postman Pat and Fireman Sam all represent available, normal careers a boy could grow up and have as opposed to Angelina ballerina, the little princess and my little pony.
The fantasy is predominant in the "careers", colours and basic concept of all the girly cartoons.
These fantasies instilled in little girls do not make for good, or rather, available career choices. So this fantasy needs an output: what better way than style!
The designer John Galliano who designs for Dior is my idea of perfect fantasy fashion. His haute couture show for Dior ss 07 brought back that kid in a sweety shop feeling as I viewed on glossy magazine pages the colours, cut, details... EVERYTHING was breathtakingly perfect. It was a collection that represents that grey area where fashion meets art. Beauty.
Another amazingly fantasy fulfilling, futuristic, artistic, architectural and inspiring designer is Hussein Chalayan- but for very different reasons to Galliano. Hussein is extremely influenced through architecture and his fantasy edge comes through completely in his individual shapes in muted tones. These beautiful, albeit unwearable, designs that lead to thought and utter awestruck silence. The beauty lies in how indescribably beautiful his pieces truly are.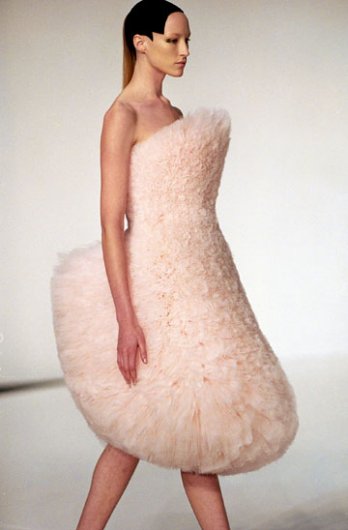 Fashion, true fashion, is fantasy. An unreachable other world that is their to admire, generate thought and bring back a little girl outlook to life.